Daily nourishment for your little loves.
Meet your child's daily multivitamin straight from Mother Nature. One of the simplest ways to keep your child healthy and happy, our raw Mānuka honey is a superfood treat, packed with a nutritional punch. 
A rich source of vitamins and minerals—B vitamins, zinc, calcium, iron, potassium and more—ACTIVIST Mānuka Honey is a great way to give your children their essential daily nutrients, minerals and digestive enzymes for immune support and healthy well-being. 
Your sweet littles will beg for a spoonful daily!
Pair with
Manuka Immune Elixir.
Regular price
Sale price
$42.00 USD
Unit price
per
Sale
Sold out
Benefits

Contains over 2000 natural compounds brimming with nutritional properties and immune support benefits.

- Antibacterial + antiviral: Mānuka has been proven to have efficacy against antibiotic-resistant microbes, promoting its healing powers against pathogens internally and externally. When sick, it improves sore throats, helps soothe coughs and improve common cold symptoms. Manuka is the perfect daily immune booster.

- Digestive support: Because low stomach acid can come from overgrowth of bacteria, Mānuka is a great way to rid your body of those pathogens and keep the digestion flowing properly. Rich in oligosaccharides, which have a prebiotic effect on the gut and promote the proliferation of good flora. This can be so beneficial for children to rebalance the gut daily or during seasons of more sickness or dietary conventional sugars.

- Mineral balance: As a real food, the vitamins and minerals work synergistically together to be even more beneficial and bioavailable. Magnesium, potassium, calcium, iron and zinc keep the body balanced and replenish minerals stores often depleted through stress or modern food manufacturing.

This beautiful caramel toned Mānuka Honey, has a smooth texture on the tongue; slightly sweeter than our medicinal grade honey but with the proactive nutritional and immune benefits.

12.3oz, premium recycled glass jar

Ingredients

100% Raw Mānuka Honey

ACTIVIST Raw Mānuka Honey is independently tested and certified in New Zealand using the Methylglyoxal (MGO) grading system, which verifies that the Mānuka Honey you are buying is authentic. Our 200+MGO Mānuka Honey is guaranteed to contain at least 200mg Methylglyoxal per kg.

Non GMO, Glyphosate residue-free
Use

Enjoy 1 small spoonful, about 1 teaspoon daily, morning or evening for immune support, digestive support, overall well-being or just a healthy treat. Add to your children's favorite food. We love Mānuka for Munchkins drizzled atop toast, pancakes, waffles, granola, oats, yogurt or fruit.

Can increase if actively sick, experiencing cold and flu symptoms, cough and sore throat, or switch to medicinal grade Manuka Honey 850+ MGO.
Share
View full details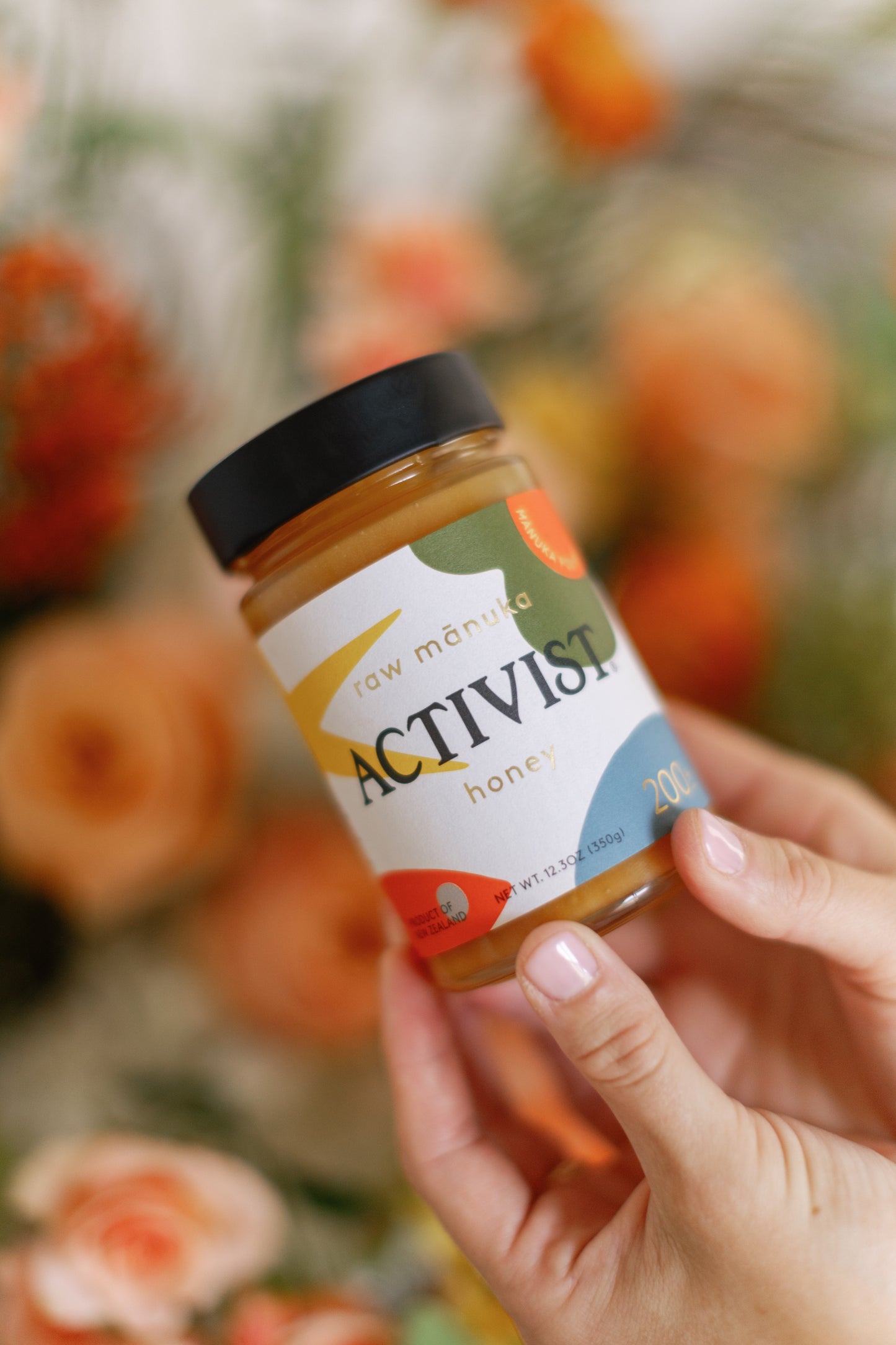 Explore holistic best sellers
Daily support to infuse joy into your wellness rituals and nourish your mind, body and spirit.
NOURISH